Our Approach
Expressive Therapy uniquely combines all creative modalities in the one setting – thus providing children with the flexibility to choose their preferred way to express what may be difficult to convey with words.
Our approach is underpinned by an understanding of early intervention, the proven healing powers of the expressive arts and the incredible ability of the brain to change itself – called neuroplasticity. For children with limited language skills and vocabularies, and particularly for children impacted by trauma who may be unable to put thoughts into speech, expression through art, music, movement, or play empowers them to express themselves without boundaries or need for words.
Our Expressive Therapists are all highly qualified and hold postgraduate qualifications in their respective field. The KidsXpress Expressive Therapy program is open to children between the ages of 4-12yrs. Our Group Expressive Therapy program received national accreditation by the Australian Institute of Family Studies in 2015.
How we use Expressive Therapy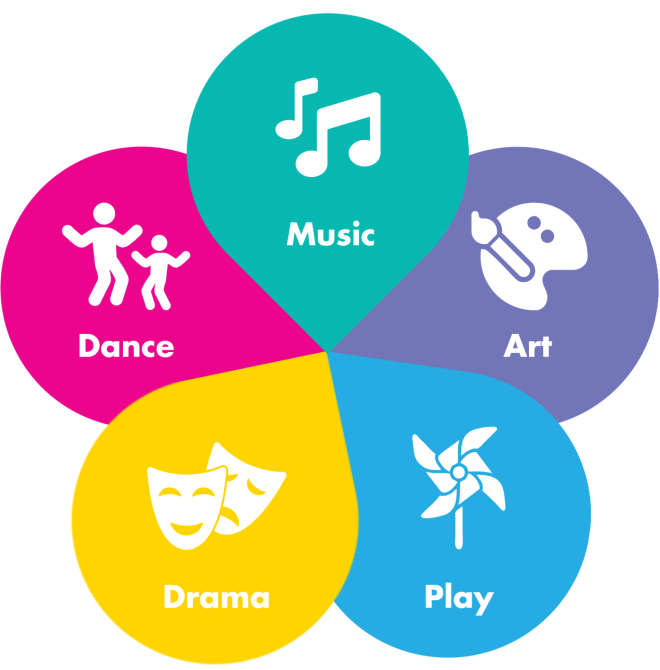 Music Therapy

At KidsXpress Music Therapy is quite different to how most children might experience music at their school or in their community.

At KidsXpress, children are not judged on their musical ability, knowledge or experience. Music therapy activities at KidsXpress are tailored each week to support the individual and group therapy goals.

Art Therapy

KidsXpress encourages children to develop their thoughts and feelings further by drawing, painting, sculpting and constructing.

It differs from traditional art in that the emphasis is on the process of creating rather than the end project. Their work is not judged and art ability is not necessary.

Dramatherapy

At KidsXpress it is not about being good at drama. Instead, it offers the potential to creatively explore and express difficult emotions in a safe and contained way.

In the dramatherapy space, children are invited to use various creative processes to explore an issue or feeling. We might create stories, step into imaginary worlds, embody characters, play with small objects or explore the real-life experiences through dramatic representation.

Play Therapy

At KidsXpress play therapy harnesses the act of play which is a child's natural language.

In play therapy, children participate in structured and unstructured activities that help them express their thoughts and feelings, explore relationships and share their experiences.

Dance / Movement Therapy (DMT)

At KidsXpress dance/movement therapy is helpful in assisting children who over-regulate to physically express some of their suppressed emotions.

Based on the idea that motion and emotion are interconnected. DMT offers people a safe way to physically express their feelings without the use of words.